Valley Offset is a commercial printer offering a full range of print services. Our sheet fed press delivers the highest quality finished product at affordable prices.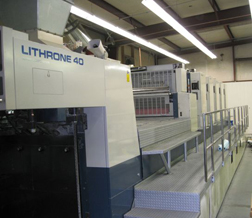 Valley Offset believes that when it comes to your company's unique brand, there is no substitute for perfection. To that end, the Sheet Fed Press will make your message leap off the page!
The Sheet Fed Press provides a significant advantage in contrast, color accuracy and overall impact. We have the expertise to know when your job should be produced on this press…and that edge can make all the difference in the world.
Five Color Komori Press, L-540 w/Coater
Fully Automated
Maximum Sheet Size: 28" x 40"
The combination of extremely detail oriented press operators in combination with the quality, impact, and finished product make the Sheet Fed Press at Valley Offset your best bet!